2019-06-28
Calabasas...The Old West & how Calabasas was formed
Calabasas History Indians, explorers, squatters, and bandits are all part of Calabasas history. The Chumash Indians led a peaceful life amidst the rolling hills, making their homes in canyons where streams and springs ensured a plentiful supply of wildlife.
Acorns from the massive old oak trees that thrive in the area formed an important part of their diet. Some of the oaks in Calabasas may be 500-700 years-old today. Settlements of Chumash Indians named the area Calabasas, a word perhaps descended from the Indian word for 'where the wild geese fly.' Others think Calabasas comes from the Spanish word for pumpkin or wild gourd.
Spanish expeditions in the 1700's forever changed the Indians' way of life. The Diary of Miguel Costanso, which documents the Portola expeditions in 1769-1770, refers to encounters with the Chumash in the area. Six years later, the Juan de Anza party camped just west of Calabasas.
El Scorpion, or El Escorpion, a ranch that once occupied a large tract in the west Valley, was granted to three Indians in Calabasas in the 1830's. About 25 years later, Miguel Leonis, the Basque 'King of Calabasas' acquired the ranch and 1100 acres by his marriage to Espiritu, an Indian who had inherited the property from her father.

Leonis was often in trouble with the law, hiring gunmen to expand his lands, bribing witnesses and threatening nearby settlers. He was killed in 1889 when he fell from his wagon after removing a band of squatters from his property. Squatter wars and gun fights were a bloody part of Calabasas history. 'Inhabitants killed each other off so steadily that a human face is a rarity,' wrote Horace Bell in his book on the old west coast.
When large ranches were divided into farms in the late 1800's, families of settlers struggled against poverty and drought. In her book, 'Calabasas Girls,' Catherine Mulholland brings the era to life with photographs and letters of her ancestors, the Ijams. When water and power came to Owensmouth (Canoga Park), they were happy to leave the difficult life of Calabasas pioneers.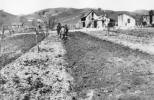 After the turn of the century, several select spots in the Calabasas area developed into weekend respites from the city. Crater Camp in Monte Nido was opened in 1914 as a year-round picnic ground. There are few reminders of the camp today on the site of Malibu Meadows.
The Stunt family developed a homestead on the north slope of Saddle Peak, also in the Monte Nido area. A favorite spot for filming motion pictures, the scenery was ideal for Hollywood. Scenes from such films as Tarzan, The Adventures of Robin Hood, and Stalag 17 were shot in this area, today known as Malibu Creek State Park. Circa 1863, an adobe which was built near the park by a settler named Sepulveda for his wife and 12 children, is now in the process of restoration.
On the north side of Calabasas Road is L.A. Historical Cultural Monument Number One, the Leonis Adobe. When Leonis renovated it in the 1870's, he enlarged it extensively and remodeled it into a Monterey-style house. He and Espiritu made it their home. The recent history of the adobe is one of struggles to save both it and its grounds from destruction. In the 1960's, the threat of razing the adobe to build a supermarket led Kathleen Beachy to purchase the property. Toady, it is a superb monument to a bygone era, with meticulously maintained furnishings and grounds, and serves as an anchor for Old Town Calabasas.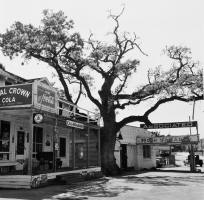 Around 1983, the Plummer House, once the oldest home in West Hollywood, was moved next to the Leonis property. As a young boy, Senor Plummer had visited his neighbors in the Leonis Adobe. The building has been beautifully restored and both the adobe and Plummer House are open for tours.
What is now the Sagebrush Cantina was originally a group of small stores built by Lester Agoure, Sr. in the early 1920's. The parking lot once was the local jail. Outside was the famous hanging tree, dead, but still standing today. It is the identifying logo of the Calabasas Chamber of Commerce.
Lack of water in the Calabasas area was always a major concern. With the founding of the Las Virgenes Municipal Water District in 1958, a water supply was assured, and the area began its development boom.
The first subdivision in Calabasas, called Park Moderne (in Mulwood near Calabasas High School), was a retreat for artists, craftsmen, and writers. It was built on land traded off as part of Sam Cooper Jr.'s homestead in 1928.
The first Calabasas high school was built in 1880 on the south side of Calabasas Road. A second school, built on the same site in 1924-1925, was a one-teacher school for the area until 1948, when it joined with Liberty, Cornell, and Las Virgenes to form the Las Virgenes Unified School District. The former Pelican's Retreat retains a small portion of the second school building.

A walk on Calabasas Road in the historic Old Town, takes one past several old buildings. The first, west of the Motion Picture Home, was originally a two-story pioneer store and dwelling owned by Charles and Alice Cooper. Called 'Hunter's Inn,' it provided rooms for hunters and travelers. After Charles died, his widow married Lawrence Kramer and together they operated a store until his retiring in 1968.
The next building, walking west, is a rebuilt replica of a garage built in 1921 and owned by the Daic brothers. Operated by Joseph, Charles, and Al Daic, descendants of homesteaders, it was originally a two-pump station. It became a popular movie back in the early 1980's. The Daic brothers built a smaller building next door to the garage, where Gaetano's is now located. A Touch of Class was the residence of Theresa Thilmony, an early beloved school teacher.
The Leonis Plaza was at one time the site of many small buildings constructed in the 1920's. They were shops for artisans, and one was the home of the Las Virgenes Enterprise. This had formerly been a blacksmith shop belonging to Juan Menendez, the son of Espiritu. Information on the history of Calabasas area is available at the Calabasas Library.

Subscribe to RSS Feed
Welcome to our Blog!
2020-06-22
Part 2 Moving Forward
2020-05-21
New Video: US Home Prices at All-Time Peak
2020-05-15
Hope that you are staying Safe, Healthy, & Sane
2020-05-06
Re Opening Calif + Mindset
2020-04-21
At Home Workout OR Get Rest & Strengthen your Immune System
2020-04-09
See the 6 Steps to Remain Calm During this Crisis...
2020-03-20
During These Difficult Times
2019-09-20
How to sell your home fast and for the most amount
2019-08-31
Warner Center Development Plan
2019-08-30
6 Tips for Selling a Home
2019-08-16
#1 Realtor Calabasas
2019-08-06
Scoundrel Creates Woodland Hills
2019-07-26
Embedded Google map of Larry Pollock Realtor location
2019-07-26
Where is Larry Pollock Realtor located
2019-06-28
Fires, Storms... & Wildflowers
2019-06-28
Calabasas...The Old West & how Calabasas was formed
2018-05-27
Memorial Day
2018-05-12
How to impress mom this Mothers Day
2017-12-16
6 Tips for Selling your Home in Winter
2017-12-09
How to Hire a Listing Agent
2017-12-06
5 Must Do Repairs
2017-11-22
Fun Thanksgiving day Fun Facts
2017-11-22
Top Ten Ways to Scare Away Buyers
2017-10-30
About Tuesday
2017-10-18
Finding your Ideal Neighborhood
Click here to see ALL articles.